Twitch continues to dominate live streaming across the board. Specifically, Twitch still occupies the top spot among platforms with 90% of the "market share of hours streamed" compared to Facebook and YouTube (reference: Polygon).
With more brands and gaming influencers tapping into the world of Twitch Sponsorships, GosuNow started a Stream Team to engage with our community and spice up our tournaments.
To provide our users with visibility into who these streamers really are, GosuNow is kicking off a series of interviews to get to the bottom of it. First streamer up… YolkyBT.
YolkyBT is a Twitch Streamer from Maryland known for his captivating Fifa, Apex, and Rocket League gameplay. What also catches his viewers' attention are his interactive streams such as Jackbox or Geoguessr… or even more unique cooking or hiking streams.
GosuNow co-owner, Scott, met YolkyBT to ask him what it is like to build a brand as a Twitch streamer.
Scott: What is your Twitch name and why did you choose it?
YolkyBT: My twitch name is YolkyBT, but it was originally Highfivegamingtv. When I first started streaming, it was me, my friend Tyler, and his two brothers all playing together. When I moved into my own house, I took over the twitch page and renamed it after my randomly generated Xbox live name, YolkyAardvark57. The "BT" at the end stands for Brady/Tyler since Tyler typically appears in the stream with me. Also… plain old Yolky was taken already.
Scott: When did you start streaming? What was your motivation for streaming when starting out, and how have your ambitions changed since?
YolkyBT: I started streaming in February 2018. My motivation to start streaming was that I already was playing games… so might as well stream! Over my time streaming, I have met so many cool and interesting people across the world. Because of this, my incentive and ambition to stream became more tailored towards meeting new people and truly grow a community of great and unique individuals.  
Scott: What are your favorite games/events to stream?
YolkyBT: My favorite games to stream are Apex Legends, Rocket League, FIFA, Silent Hill, N64 /other retro games. My favorite events to stream are Apex Private Lobby Tourneys and Jackbox Community Nights.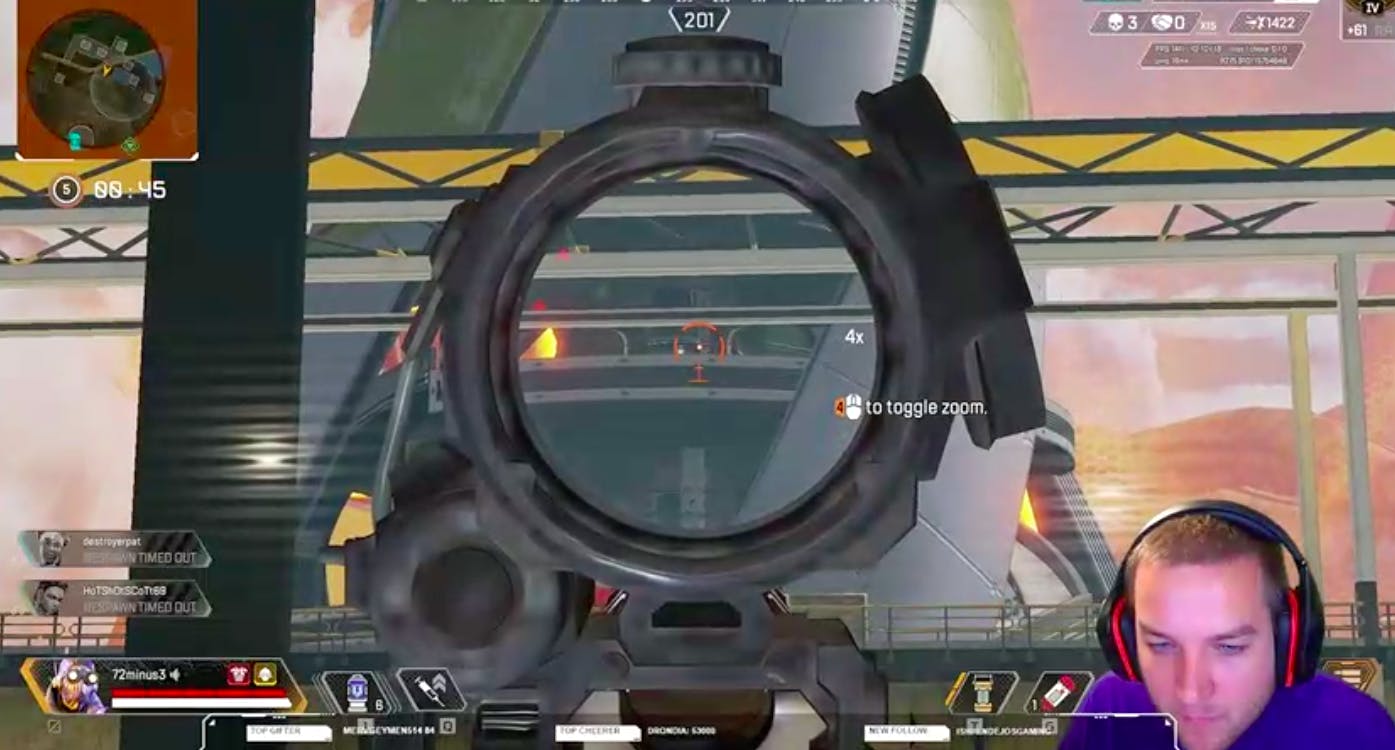 Scott: What is your earliest memory of gaming?
YolkyBT: My earliest memory of gaming is when I was very young, and my dad and I would play the very first Gallop Racer video game. We would play all the time, but obviously, he wouldn't let me win. Even though that is my own first memory, apparently my family tells me how I used to hijack the family computer to play Doom II and wouldn't let anyone else play….all at the age of 4.
Scott: What console do you play on and what equipment do you use?
YolkyBT: I play on PC or Xbox. I only have certain games on Xbox so I switch between the two if I need to. My PC has the following GPU and CPU: INTEL CORE 17-9700KF 3.60GHZ.....XFX AMD RADEON RX 590 FATGOY 8GB GDDR5.
Scott: Who do you love watching on Twitch right now?
YolkyBT: I love watching others in my community such as Justdominos and AFORUS. When it comes to more mainstream streamers I like to watch MOONMOON, gdolphn, sips_, A_Seagull and 72hrs.
Scott: What is your favorite memory or achievement on Twitch so far?
YolkyBT: My favorite memory on twitch so far would be simply meeting and making new friends from all over the world. Separately… another fun memory was when I randomly got hosted for 700+ viewers while I was in the bathroom. When I came back I was so confused (but it was still a great stream).
Scott: What is the most difficult thing about streaming?
YolkyBT: Constantly coming up with fresh/new stream ideas. I have my go-to streams where I play games, but people often enjoy more variety and I am determined to provide that. I have done cooking, hiking, live horse racing, retro games, just chatting, desk/greenscreen building and house tour streams. I'm sure my viewers would love watching the usual games, but I pride myself on variety.
Scott: What advice would you give others who want to start streaming?
YolkyBT: My best advice would be to just have fun and be yourself. Don't worry about the numbers because you'll make yourself crazy doing that. If you just have fun and be yourself, people will 100% be more inclined to watch you and you will build better relationships that way. Streaming should be a fun hobby and if more comes from it, then fantastic!